Company Information
Choose your language: РУС | ENG

We're not just a website builder software, UNOVI is the best platform that has everything you need to run your business, from the very beginning to the mature stage. UNOVI Business Cloud HUB - is the third generation Service Oriented Architecture based on web services and web-native applications.
We make it easy for everyone to create a beautiful, professional web presence and run their business online.
Promote your business, showcase your art, set up an online shop or just test out new ideas. The Unovi has everything you need to create a fully personalized, high-quality free website.
Cutting Edge Product and Services, Warm Company
The very first Unovi software was designed for our own needs and reflects our business vision. It's been our mission to make doing business better for everyone ever since. Our skills and ardour deliver brilliant software decisions able to solve almost any business problems with ease.
We develop software that provides our clients with the opportunity to build their own business online. There are different products and services united within the sole cloud operating system based on SOA (Service Oriented Architecture) using web services and web-native applications. These include building websites and e-commerce shops, bookkeeping, marketing and advertising, payment solutions, third-party services, consultancy services, education and advertising.
Key facts
1.000.585




Orders via e-shops

£53.142.761




Company worth

141




Planned Product and Services

20.190




User Accounts

£26.000.000




Shares Allotted

£1




Share Price
Type of Business:

designing the structure and content of the software (computer programs) and/or writing the program code




software modification, testing (including testing of computer games) and support




system software (including updates and fixes)




application software (including updates and fixes)




databases




web pages software customization, i.e. modifying and configuring an existing application to ensure its functionality in the client computer system environment

Website URLs:

www.unovi.com
www.unovi.investments
www.unovi.academy
www.unovi-cervices.com
www.unovi.ru

Team:

Appr. 36 core team members

Headquarters:

London, UK

Branches:

Tallinn, Estonia




Glasgow, Scotland
Unovi Business Cloud HUB Milestones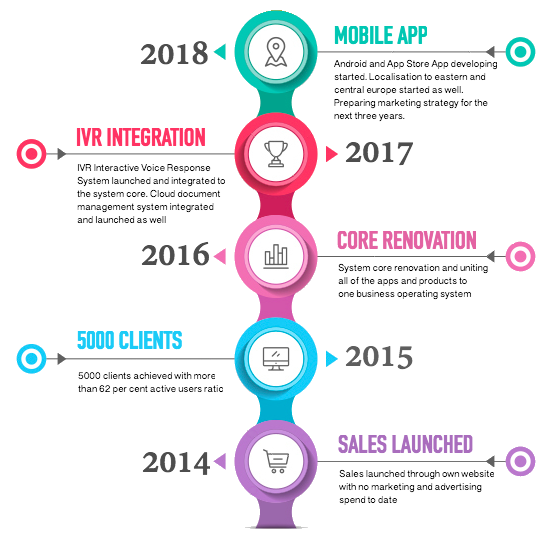 History
Unovi was founded over 25 years ago. Since then, we have been developing new ideas, services, products and websites to help our customers spread up their businesses to decrease running costs and to attract more new clients. Every invention, every product and every breakthrough has been powered by generations of employees who are inspired make a difference. Their motivation is simply to improve peoples' lives.
During this period the founders had extensive experience in different industries such as publishing, education, telecommunication, consulting and marketing, advertisement production. Running all these businesses and gaining profit had become more and more complicated without any business-process automation.
There was no business automation software at all at the time of foundation. Internet and Business Software have been developing since then almost parallel with our entrepreneur experience. With our customers and employees help we've discovered and understood what are their real problems with business automation.
As a result, we began developing apps and products to meet our automation process requirements. The number of apps and products increased significantly as our business grew. It has become obvious that we can unite all the developed software and make our business automation platform (the operating system) a segregated business.
Unovi Business Cloud HUB become a self-sufficient business with segregated legal entities
Contact Us
If you have an enquiry about the company facts and(or) investment opportunities, our team will be happy to help you
By Email: info@unovi.com
By phone: +44 0131 605 1012
By post: Unovicom UK, 272 Bath Road, Glasgow, G2 4JR