Key Investor Information
Choose your language: РУС | ENG

This document provides you with key investor information about our company. Please take into account that It is not marketing material. The information is required by law to help you understand the nature and the risks of investing in this enterprise. You are advised to read it so you can make an informed decision about whether or not to invest.
At a Glance
We have been running different types of business for more than 20 years and know well enough exactly what the entrepreneur needs. Our online service — UNOVI©️ is the Business Cloud Hub, which provides you with everything you need to run your own business. Altogether. All in one. Using our service, you really don't need to use any programs, apps or services except UNOVI©️.
Many of our products and apps were developed to meet our own needs — for UNOVICOM itself runs entirely on UNOVI©️. This means we know exactly what we are offering you!
UNOVI©️ delivers all product and services to clients, to achieve high-quality results, and allows them to seamlessly connect with their existing systems and data. Fees are 320% less than the average market value.
The platform has enhanced usability and compatibility between its apps and products, which means 120% less time is wasted in working with it. The UNOVI©️ Business Cloud Hub©️ has 100% compatibility with all major document and data formats from other software and service providers.
Finally, We've completed all the most important project's documents and forecasts. We believe that our project is tremendously lucrative and very attractive to investors. The key important points are:
The huge market volume which is increasing more than 40 percents annually
The market will Grow 213% from $125.52 Billion Today to Over $400 Billion in 2022
Our project is the Third-Generation one which is more than SaaS. It is SOA - Service Oriented Architecture based on web services and web-native applications
We have several patent-ready solutions and ideas which give us a great advantage over competitors in the market
We really have only 1 (one) competitor globally who uses almost the same business model
Our company has enormous growth potential with the stock market. Cloud software market has grown by 350% since 2013 and keep growing further
Our project is more than a startup - it is EU-based company with UK Branch and minimum viable product (MVP) generating revenue. Moreover, we have almost developed the Third Generation version of our product
Unovi Video©️
Spend a minute watching our video. This channel is about offers and benefits of investing in our company
Five Reason to Invest in Unovi©️
| | | |
| --- | --- | --- |
| | | Download our Investment Leaflet with a lot of useful information about the company and investing offers |
| | | | | | | | | |
| --- | --- | --- | --- | --- | --- | --- | --- | --- |
| 1 | | 2 | | 3 | | 4 | | 5 |
| | | | | | | | | |
| | | | | | | | | |
| A Winning Business | | Global Power | | Secure Your Future | | Company Growth | | Technology and Culture |
| | | | | | | | | |
| | | | | | | | | |
| Our unique business model - Unovi Cloud HUB is a Third Generation (SOA) Service Oriented Architecture based on web services and web-native applications | | Our products and services are planned to be localised in more than 116 countries worldwide. Thereby we spread our customer base and decrease operational risks | | Be part of a new venture. Your future is nothing but the choices you make in the present - become the owner of international enterprise and start to gain profit | | Foreseeable shares price increasing inevitably over the next operating years as well as more than 17x company growth due to the Reuters industrial forecasts | | Our software is a cutting edge as a result of research and development we run and technology sharing |
Market Research Data - A Bright Future
While projections vary, one thing is certain: the global SaaS market will experience unprecedented growth over the next few years. Providers that stay adaptable to customers' needs could secure a spot in a market that will only keep flourishing with time.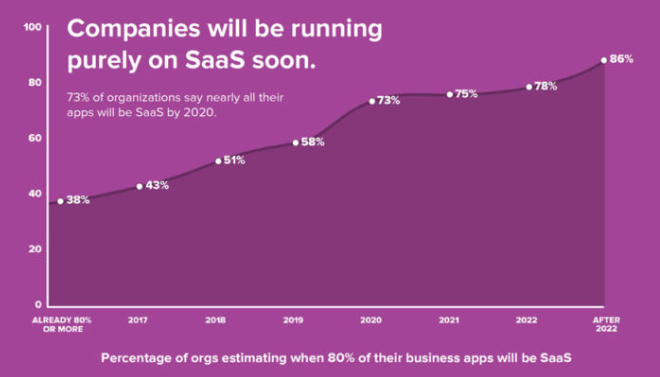 All around us, we see companies turning into cutting-edge, SaaS exclusive powerful corporations, and the reasons for that are pretty self-explanatory. With more than 80% of their performance app being hosted and manoeuvred in a cloud, companies can confidently claim that their operations no longer depend on legacy systems. This makes absolute sense for all of them, SaaS benefits often come down to serious financial savings. The main beneficiaries, as expected, are small and medium businesses, which also have the best growth forecasts.
The affordable price of SaaS technology helps expand the corporate ecosystem with a number of new apps and involve everyone on board in how those apps are managed and operated. Since SaaS applications are easy to use, managers will no longer have to provide expensive training to enable employees to use them, and they won't buy special devices for them as data resides entirely online. Better yet, these apps connect easily with a number of third-party apps and solutions and usually come with open API access to enable you to build custom connections, which leads them to even better growth forecasts than the ones reported.
News
Jan 19 | We've prepared all documentation need to start the first round of raising funds. It will be running on three global platforms such as
Investors FAQ
1. Investing seems complicated. How do I get started?
As a newbie to the world of investing, you'll have a lot of questions, not the least of which is: What's the best investment strategy? Investing when you're young is one of the best ways to see solid returns on your money. Even for shorter-term financial goals (like buying a home), investments that earn higher returns than a traditional savings account could be useful. Investing may seem scary, but it doesn't have to be. Research your options carefully and consider starting off with a small initial investment. It's most important to stay confident, even during unprofitable years in the stock market
2. How can I buy Unovi's stock?
To save on fees, you can buy stocks directly through the company. You can do it 24/7 via our online service. You have to provide us with your full details to include you in shareholders ledger. After purchase completed, you will receive a set of the documents which consists of 1) Stock Certificate, 2) Register of Members and Stock Ledger Statement, 3) Share Transfer Form, 4) Stock Purchase Agreement. These documents will be sent you by post that's why it takes some time to deliver (delivery time depends on your country and region).
3. What type of investments is available to the average person?
There are two investment instruments for you to choose from:
STOCKS (SHARES) - A stock is a share of ownership in a company. Stock prices move based on investors' evaluation of the company's performance, including leadership changes, new product releases or how it's doing financially. Companies issue stock to the public to raise money to grow or pay off debt. Stocks are also known as equities.
NOTES (PROMISSORY NOTE, LOANS) - A note is essentially a loan to a company, which agrees to pay you back in a certain number of years. In the meantime, you get interest. Notes generally are less risky than stocks because you know exactly when you'll be paid back and how much you'll earn.
4. I changed my mind, can I update/cancel my investment?
Yes, you have up to 14 days (cooling off period) from the date when payment has been made to cancel your investment commitment. Once the cooling off period, which is generally no shorter than 14 days has expired all investments are legally binding, and cannot be cancelled for any reason. For more information see "Cooling Off and Cancellation Guarantee" terms and conditions.
5. How do I contact Unovi's Investor Relations?
There are many different ways to contact the company, and we try to make it as easy as possible. Unovi's staff are ready to answer your questions at any time depending on the contact method you've chosen. Please note: The customer service's staff are not able to provide any piece of advice or recommendation in any circumstance. Customer support's operating hours are:
Phone +44 0131 605 1012 - Monday to Friday from 7 am to 17 pm GMT (excluding the public and banks holidays). Calls may be monitored or recorded.
Online Chat - 24/7 seven days a week (excluding the public and banks holidays).
Email info@unovi.com - 24/7 seven days a week (excluding the public and banks holidays).
If you need any help or information, contact us using the method that is most convenient from the list above. Our Address is: 272 Bath Street, Glasgow, G2 4JR, United Kingdom of Great Britain and Northern Ireland
6. When and where was Unovi incorporated?
Unovi was incorporated in Estonia, Commercial register card No. 1 has been opened in Tartu County Court Registration Department in respect of Unovicom OÜ (registry code 12614724) in February 2014 and its branch was incorporated in Scotland in June 2018.
7. How may I obtain copies of Unovi's financial information?
Most of the Company's reports and financial filings can be printed or downloaded from the Financials section if this site. If for any reason you think that you need more information or such kind of information that doesn't provide in this section, please do not hesitate to contact our representatives or our staff at any time.
8. Does Unovi issue dividends on its ordinary stock and have a Dividend Reinvestment Plan (DRIP)?
Unovi planning to issue dividends on its ordinary stocks as well as privilege stocks and does have a DRIP. Issuing dividends depend on profit company gains and the Board decision. They can be in the form of cash payments, shares of stock, or other property. Dividends may be issued over various timeframes and payout rates. Dividend reinvestment plan generates a compounding interest that allows investors to purchase additional shares when a sufficient amount of money is accrued.
9. How I do learn more about the terms of the offerings?
We provide detailed and important information about the company and the terms of each offering via our official website as well as such information is posted on appropriate web platforms.
Please review the information carefully for a full description of each offering, prior to making any funding commitments. We also provide our customer with the ability to communicate directly with the company's management and with others in our investor community to discuss the offering and raise any questions or issues.
10. Is it risky to invest in private companies, particularly start-up and early stage?
Yes. Investing in startups, early stage, and other private companies are highly speculative (very risky) and could result in the complete loss of the investment. Private securities and early-stage companies have a high failure rate so you must be able to afford the complete loss of your investment without a change to your lifestyle. Early stage private placement investments are NOT bank deposits (and thus are NOT insured by any other government agency), they are NOT guaranteed and may lose ALL or some value. In addition, you will not be able to resell securities acquired, including sales back to the issuer, to accredited investors, to family members under certain circumstances (i.e. death or divorce). However, even after the restricted period, there is no guarantee that there will be a market for the securities. Except for the circumstances where buyback was agreed.
11. Do you have standard legal documents that you like to use?
Yes. We have and use standard kit of legal documents to support the stock purchase or loan bargains between company and clients. All of those documents are posted on our official website with their latest edition in force. You can find them in the appropriate website section.
12. How do I exit my investment?
You can exit your investments practically at any time but always take into account the terms and conditions of those investments instruments you have. For example, Promissory Notes mature 36 months or 60 months from the date the Note was issued, and investors should be prepared to hold any Note through to its maturity. The loan agreement has its own terms and condition and can or cannot be terminated at any time. The same principles influence on the shares selling. You have to read as carefully as it possible every document related to that investment instrument which you are going to buy to discover all of its terms and conditions especially exit strategy and condition BEFORE buying this! As payments of principal and interest are received timely, investors may withdraw available cash through a wire transfer to their bank account or through other means.
13. How often do I get payments and when do I get all of my money back?
You can get all of your money back as well as payments according to the terms and conditions of that investments instruments you have. See "How do I exit my investments" and your investment agreement for detailed information.
14. How are shareholders' financial interests protected?
All shareholders' rights and directors' obligations are in Shareholders Agreement, this is a legal binding document for all company shareholders and its management. This document is posted on our official website.
The average shareholder, who is typically not involved in the day-to-day operations of the company, relies on several parties to protect and further his or her interests. These parties include the company's employees, its executives and its board of directors. However, each one of these parties has its own interests, which may conflict with those of the shareholder.